S I T E M A P
NEW HAMPSHIRE GENEALOGY & HISTORY


---

SEARCH THIS SITE

Welcome to my web site! From time to time I am asked to perform research, which I will do if I have the time. I can be reached at the email address below. I do not accept payment when I perform research. If you have benefitted in some way from either information found on this website, or by my personal help, you can thank me by thanking veterans in some way.

My favorite veteran's charity is:
Liberty House Inc. (Veterans Shelter)
75 West Baker Street
Manchester, New Hampshire 03103
This organization is a 501 (c)(3) non-profit organization.



Why I copyright my web site. Sadly unscruplulous individuals enjoy stealing other people's photographs, and creative works to place on CDs to sell, or to put on so-called "free" web sites which later become "pay to use" sites, and believe that my photographs belong to them. The ONLY people who have permission to use anything on this site, are those who contact me, and receive WRITTEN (email or via mail) permission to do so. I NEVER NEVER sell photographs to commercial sites, NOR DO I EVER approve of my tombstone photographs being donated to any other grave or tombstone web sites for display, whether they are paid or free. If you are a non-profit organization, SUCH AS A MUSEUM or HISTORICAL SOCIETY, or even a CHAMBER OF COMMERCE, please DO contact me if you wish to use something on my site, because I am more apt to say yes to you. If you are an individual and a family member's photograph is here, PLEASE contact me about it before using it. NO, sorry you may not use these photographs in your published family book without my written permission.


MAIN PAGE - Introduction and Explanation of web site

New Hampshire County Map (clickable)



County List - List of all New Hampshire counties

genealogy information specific to counties

links to individual counties for more information on the individual cities and towns

Research - general information for those performing genealogical / family tree research in New Hampshire [remember to ALSO check the County Site which has records listed under individual towns and cities].

how to obtain vital statistics (birth, marriage and death records)

locate historical societies in each town or area

divorce and name changes
cemetery inscriptions
immigration records

Note: also check the county, in the County List to see if a specific town you are researching has additional information for you



Brief Glossary of Early New Hampshire History Terms - some of these terms are also used throughout New England, however much information is specific to New Hampshire


History - histories of New England, New Hampshire, all the counties in New Hampshire, and many histories of individuals towns


Some Family Trees & Biographies - This web site contains a huge collection of family trees (genealogies) and biographies of New Hampshire people, along with links to external web sites. The best way to find these sources is to use the search box above.


1831 NEW HAMPSHIRE Newspaper Ads, Notices, from the NEW HAMPSHIRE PATRIOT AND STATE GAZETTE of Monday, October 24, 1831
other resources that are not typically part of genealogical research.


photographs and old postcards of people, places and events in New Hampshire history

Note, also check the county, in the County List to see if a specific town you are researching has additional photographs
ALSO a separate page of MISCELLANEOUS NH PHOTOGRAPHS (Bedford, New Boston, Webster, and Weare NH)


And other methods to communicate with other people researching the same lines or geographic areas that you are!



SITE MAP - You are here!



SEARCH ENTIRE SITE - TO SEARCH THIS ENTIRE SITE, either use the search box at the top of this page, OR see the Yahoo Search Box on the Main Page, and follow the instructions there.

ADDITIONAL NOTES:

Feel free to link your web site to mine. If you wish, you may use the following graphic. The URL associated with the graphic should be: http://www.nh.searchroots.com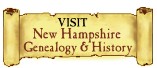 If for any reason you are unable to view my email address, please
contact me at:
janicebr@earthlink.net